Nothing Compares 2 U...
The other day I heard that new Rihanna song 'Stay'; the one that sounds a bit like an Adele song; the one co-written by—and featuring—Mikky Ekko, a bloke who looks like he wears boot-cut jeans and should be a judge on American Idol; the one with the video of Rihanna crying in a bath. The decision to cry in a video is a risky one. You have to deal with a big elephant in...
Intern Duties Volume 2...
Jaro Minne has been interning with us over the past two weeks. He's a very talented film-maker currently studying in Brussels. You can see his work here. He made a film for us—the next in our 'Intern Duties' series. It was shot over his lunch break, around the corner from our office, and edited the same afternoon. Intern Duties, Jaro Minne from Somesuch & Co. on...
We Run Tings. Tings Nuh Run We
The homie Oliver Payne has a solo show at Herald Street which opens tonight. There's also an after party. Rollo Jackson is DJ-ing. Along with Jagger. It will be jokes. And sometime over the next couple of weeks our new spot for Samsung drops…
White People's Vision
A lot of advertising agencies wanna piece of the music video game these days. They call them pop promos, which is cute. It makes sense. Bang out a pop promo. Simple. There's no easier way to affiliate your brand with that all important demographic - young people. The tricky thing for advertisers is that recording artists aren't products in the sense that they are actual-real-life-humans, full of...
In The Streets...
Our intern Roger Gonzalez went for a quick skate round our office at lunchtime today and threw together this edit. It's tight. The homie Ben Larthe helped with the filming. Intern Duties from Somesuch & Co. on Vimeo. You can see some of Roger's other work here.
Bounce, Darling...
We recently completed a documentary project for Nokia Music and the Sundance Channel: six films about the emerging music scene in six American Cities. New American Noise. You can see the trailer here. Emily Kai Bock, Bob Harlow, Tyrone Lebon and Abteen Bagheri all directed segments. The films premiere at the Sundance Festival on the 18th January. You'll also be see them on the tinternet...
Collage of the Week
Thanks to AG Rojas, aged 17 of Pasadena California, who submitted this tribute to everyone's favourite rapper. From now on anyone whose submission to Collage of the Week gets published will receive an exclusive Somesuch & Co t-shirt. You can see some of the designs below. Hit us up: tim.nash@somesuchandco.com
We Three Kings of Miami
Daniel Wolfe's HTC 'Miami Bass Project' finally launched this week. It's been a while coming. We shot it earlier this year. Watch the 60 here and the extended version here. George Belfield was on the ground, working on the project. Here are his reflections on the experience. Safe. **** Miami is refreshingly free from the constraints of irony. Back in the Drizzle there...
Man Nah Wear Ugg
I love Vimeo. Around 18 months ago we rebuilt our site using Vimeo as our player. Before this we were using Wiredrive. Their website boldly declares that Wiredrive puts your media to work. It actually doesn't. It creates conversations like this. 'Hi, it's **** calling from Bungle-Bartle-Boss-Boss-Abbott-Steve-DDBCDEFG. Your website doesn't work. It won't...
#1 Stunna
Director Vincent Haycock (pictured above) made a video for Calvin Harris's single 'Sweet Nothing', which went to NUMBER ONE in the UK charts on Sunday. Cop it below. I love NUMBER ONES. If you work at a record label a NUMBER ONE means that you might not get made redundant for at least another week. In times gone by, a NUMBER ONE also meant that you might be able to enjoy a...
Collage of the Week
Over the past month Somesuch associates have killed the internet here, here, here, here, here & here. Roman Gavras got given a gold computer by a Libyan potentate.  With Yuletide approaching we've decided to rinse some Christmas adverts. And we're hopefully about to sign some new directors, none of whom look like this: While I'm on paternity leave I've been...
Shape Up
I love going to the barber. I love getting my head shaved. You'd imagine that this would be a simple procedure - 'a bit like mowing the lawn' - but you'd be surprised how easy it is to fuck up a crop. A good crop needs to be tight. The barber needs to keep going over it with a comb, checking for stray hairs that the clippers might have missed. No one wants that mental...
Temple of Doomed Leisure Time
Three months ago I got addicted to Temple Run, a game designed by Imangi Studio for the IOS platform. Richard Kylea Cowie and Wayne Rooney are also adherents. Temple Run is straight up divorce in an app. IOS crack. You might as well free-base your iPad, douse yourself in 151-proof rum, and then set yourself on fire. It will ruin your life faster than a night out with Michael Barrymore. In the...
One picture is worth ten thousand words
Fred R Barnard was working late. He was on deadline for a print ad in the trade journal Printers' Ink. Ideas never came too easily to Fred. His favorite adage was: 'I had two ideas today; the second was to shit-can the first'. That kinda summed him up. He pulled hard on an Old Gold and thought for a minute. Gaspers always helped him get shit straight in his head. Fuck it. He cracked open the...
Bad Man Ear Warmers
'I've been examined ever since I was seamen They took a sonogram and seen the image of a demon At birth the nurses surrounded me with needles And drugged me all up with the diseases of evil…' क्रिसमस और नव वर्ष मंगलमय हो Just got back to yard after five weeks in India. I now look like this. But after a week back, I feel like this (c/o Micah Walker). And weirdly...
Smiths Court
Ah man. Shitty draws in the courtyard. The tarmac's dashed with shitty wet-wipes. A pigeon pecks at one. Fuck man. A few feet away, gold spray paint describes the outline of a pair of shoes. The drizzle causes a rivulet of gold to run away into the drain. Shitty rain. Last night a balding man of indeterminate age squatted in the corner of the courtyard, kecks around his ankles, and took...
The Raw And The Cooked
Food is incredibly important to Somesuch. Sally's parents - Jim and Wendy - run an award winning restaurant in Martinborough called the French Bistro. If you're ever in New Zealand make sure you go there and order the duck a l'orange - it's an unruly banger. And Sally is a wonderful cook in her own right. Anyone that's been to our house for dinner over the years will...
Mixtape Hype Volume 2
Oh shit. It's here: the Slipmatt mixtape, made exclusively for Somesuch & Co. RAW. For those that don't know, Slipmatt is a pioneering DJ and producer. He was also one half of SL2 who in 1992 blessed the world with one of the seminal breakbeat hardcore anthems, 'On A Ragga Tip'. We met Slipmatt at a hardcore revival night while researching Daniel Wolfe's...
Mixtape Hype
This is the first in what will hopefully be an ongoing series of mixtapes made for us by our friends and collaborators. The Shoes very kindly put this together for Daniel Wolfe after he worked with them on the 'Stay The Same' video. We can't thank them enough. It's fucking wicked. Enjoy. The Shoes Mixtape by somesuchandco
I'm gonna put on a iron shirt
Fuck. Fuck. Fuck. Sorry for the post drought. In the words of Richard Kylea Cowie, 'Bumbahole work got in the way'. Yeah man. It's frustrating when my pretend job - running a production company - gets in the way of my real job - writing a retarded blog. Anyhow. Don Gwaaardin and I were in Los Angeles shooting an interactive film for Range Rover. Lucy R Kelly produced it and the...
You are now about to witness the strength of...
Your head hurts after the wrap party. Don Julio was a bit too fun to hang out with last night. Advil isn't working. You've only got a couple of Xanax left, but you want to save them for the flight home, which leaves JFK later that evening. Eventually you manage to drag yourself out of bed. Standing up feels weird. Blood rushes to your head. Pounding. Pounding. You run to the bathroom...
Who broke the internet?
On Sunday millions of Canadians watched the Green Bay Packers and the Pittsburgh Steelers slug it out for the Vince Lombardi trophy in Super Bowl XLV. Depending on their allegiances, some viewers will have been listening to Lil Wayne's 'Green and Yellow' freestyle, but nearly all will have been drinking Pabst Blue Ribbon and eating Funyuns. During one of the myriad advertising...
Just peep the crystal method where I take a...
It's 2.30 am on a Friday in late November 2010. I'm standing on a pedestrian bridge that spans Mancunian Way, otherwise known as the A57, which forms a major part of the Manchester-Salford Inner Ring Road. It is bitterly cold. The kind of cold that creeps into your bones and doesn't leave. Daniel is wearing a woolen balaclava that leaves only his eyes and mouth exposed. A...
We Make Our Stizacks
Melly new year peeps. Who's got a cough? We've all got a fucking cough. London Cough fam. Just set foot in this city and you'll get a cough. Koff. Koff. Khhh. Kkhhughh. Dry or chesty? Dry of course. Beechams Veno. Covonia Dry & Tickly. Numark Simple Linctus. Pavacol D. Benylin Mucas. Robitussin Dry. Drowsy. Close your eyes. Drowsy. Movies in my mind. Hot sheet shuffle....
That's The Curtains
On Tuesday I finally left Atlantic Records for good. I handed in my staff card and raggo, standard issue 8800 crackerz. And then security kicked me the fuck out. Yes fam. All I had was a cardboard box containing a dusty yucca plant, a couple of sharpies and a broken calculator. In order to celebrate I re-posted the entire IN YOUR FACE blog archive. Peep it here. For those that didn't read...
Ey Ey Ba Day Ba Wadladie Day
We launched Daniel Wolfe's new video for Chase & Status on Monday evening. Oh shit. The tinternet found it, boshed it like a Mitsubushi and then started buzzing. A lot. Broadsheet journalists began tweeting about it. Caitlin Moran at the Times got on a heavy bean reminiscence. Twit twoo. By Wednesday morning it was trending on twitter. Then it landed on the YouthTube homepage and...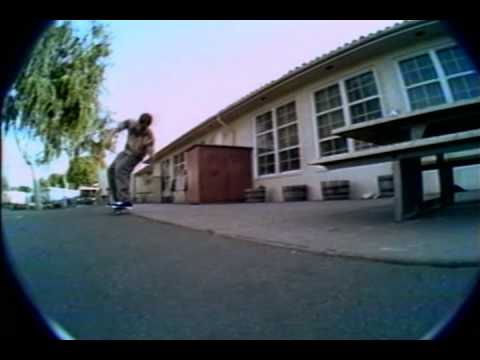 Comin through the trees, like a salamander, bitin...
The Plan B video for 'Love Goes Down' has now been delivered. You can peep it here. It's already blowing up on the tinternets: it was the number one most viewed music video on YouthTube today - and as a result got mad homepage love. We always try and pepper the Plan B videos with good cameos for the children. On the right is Andy Crane. Yep. Andy mother fucking Crane. The...
Just Love Safe
Fresh from rinsing it at the UK MVA awards, Somesuch & Co director Daniel Wolfe shot the video for Plan B's forthcoming single 'Love Goes Down' this week. It's Daniel's fifth outing with Ben Drew and the most recent installment of an ongoing narrative series of videos. Tim Francis took care of the production duties. He is also award winning. There'll be a...
My Gun Dirty, My Brick Clean
Somesuch & Co have just delivered their first commercial. You can peep it here. It's for Skoda and it's called 'Mean Green'. Only joking. The ad isn't really about bubba kush - it's about a car whose components are made out of cool stuff like razor wire, snakes, crossbows, smelted samurai swords, charnel house bones and skid marks. It was directed by...
David Junior
We shot the Alesha Dixon video in the Sunny Skies Mobile Home Park in Lancaster, about an hour and a half's drive out of Los Angeles. Some of the local residents hung out for the day and watched. They were pretty hyped on what we were doing. Some lives are marked by misfortune. He lost his front teeth and his girlfriend in a car wreck. Rear-ender. A tailgating truck. He was driving slow...
Do You Think It's A Man Raving?
This week I had to go to L.A. to shoot an Alesha Dixon video, one of my last commissioning assignments for Atlantic Records. Luckily I managed to find time to go to In-N-Out Burger with the homies Nima went in hard: Double-Double and Animal Style fries. I learnt a couple of interesting things about In-N-Out while I was there. Firstly they pay their employees significantly more than the...
Cash Money Vagrants
Everyone has their daily world wide interweb program. Morning ablutions. Coffee. Tea. Cigarettes. Maybe even warmers from last night's ashtray. Hot lips. But at some point before noon most sentient peeps turn on a computer and look at blogs - command D bookmark bangers. The other day I was reading my second favourite blog when I came across this: Smooth and fruity. Sweet Bitch. You can...
Bare MCs Just Lie Too Much
British Telecom can only be described as long. They understand that any new business needs a phone line installed quickly. Shivnarine knows this. Skunk monotone. Nasalized from the night before - like he stayed up too late trying to collect enough Intel Pieces to make 'Call Of Duty 4' go into silent movie mode. 'I know cuz, but 8 weeks is the earliest appointment for ISDN and...